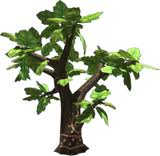 Compared to the size of the plant that grows, this seed is nothing more than a tiny pit.
The apple seed grows an apple tree. Lots of creatures like to eat apples, and this is the easiest way to get them fresh. This tree may be small and easy to grow and cheap to get hold of, but it is worth it's weight in apples.
An apple tree grows apples, which can be tinkered to make toffee apples.
Requirements
Surface requirements: Apple seed should be planted in grass, soil or long grass.
Catalyst requirements: For bonus growth red fertilizer, cocoadile tears or special mix fertilizer should be used.
Uses
Visit

Resident

Romance
Variant