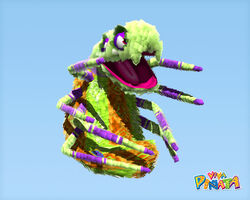 The Arocknid is a Piñata introduced in the original
Viva Piñata
. It is a green-and-purple spider with an orange line across its abdomen.
In-Game Description: "If Cluckles had this many legs, people would shout "Hooray!" and fire up the barbecue. However, an Arocknid's legs seem to make people cautiously reach for a rolled-up newspaper."
Requirements
Appear requirements
You are a level 6 gardener or better
Visit requirements
Resident requirements
Has eaten 2 Raisants or Tafflies
Romance Requirements
Other Information
Appearance
Arocknids have green hair, eight legs and four eyes. Their hair is striped with an orange diamond pattern all along the body, with purple bands on their neck and legs.
Species Conflicts
Arocknids will only start fights with Reddhotts.
Trivia
Arocknid Uses
4 Arocknids in the Garden help meet the Lackatoad Romance Requirments.
Eating 1 Arocknid helps meet the Macaraccoon Romance requirements.
Eating 2 Arocknids helps meet the Profitamole Resident requirements.
Ad blocker interference detected!
Wikia is a free-to-use site that makes money from advertising. We have a modified experience for viewers using ad blockers

Wikia is not accessible if you've made further modifications. Remove the custom ad blocker rule(s) and the page will load as expected.