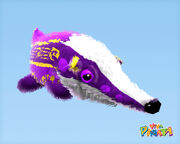 Does the Badgesicle have a certain part of its anatomy that can only be described as rough? Let's put it this way: if Badgesicles sat on trees, the branches would be so smooth, birds would slip off.
Requirements for Classic
Appear Requirements
Have 2 nocturnal residents in the garden
TIP: Have a blackberry bush growing in the garden
Visit Requirements
Garden has 4 nocturnal residents
TIP: Have 3 Geckie residents in the garden & have a blackberry bush growing in the garden
Resident Requirements
Romance Requirements
Has eaten 1 Squazzil
Has eaten 2 tulip seeds
TIP: Has eaten 1 Lemmoning, 2 tulip seeds and have a Badgesicle house in the garden
Species variants for the Badgesicle
Feeding it an apple changes its color to red.
Feeding it a bluebell changes its color to blue.
Feeding it a jar of honey and a water lily changes its color to fuschia and yellow.
Requirements for Trouble in Paradise
Resident Requirements
TIP: Has eaten 1 Geckie and 2 blackberries
TIP Variants
Purple and blue- Feed Bluebell flower
Red- Feed 1 Apple
Maroon and gold- Feed Water Lily flower
TIP Tricks
Trick 1: Eat a Fudgehog
Trick 2: Eat an Arocknid
TIP Wildcard Versions
1: Long ears
2A: Stripe down back
2B: ???
Other Information
High up on the food chain, Badgesicles are large and somewhat valuable. Nothing exceptionally unique, however.
An in-game rumor from Leafos claims that when a Badgesicle swims in water, it will turn into a Sweetooth. (False)
Badgesicle Uses
None.
Species Conflicts
Ad blocker interference detected!
Wikia is a free-to-use site that makes money from advertising. We have a modified experience for viewers using ad blockers

Wikia is not accessible if you've made further modifications. Remove the custom ad blocker rule(s) and the page will load as expected.