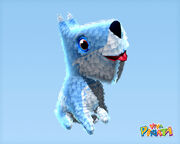 The Barkbark is man's best friend. His qualities are loyalty, cheery disposition, obedience, and every now and then slobbery overfriendlyness.
Requirements
Appear Requirements
Have 2 nocturnal residents in the garden
Visit Requirements
None, cannot be obtained this way.
Resident requirements
None, cannot be obtained this way.
Romance Requirements
Other Information
Barkbarks are pretty cool. They're big, and therefore a little difficult to romance many at once, but they're pretty cute. Quite valuable too. Just know that they're enemies with the Kittyfloss, so having both is a recipe for trouble.
The Barkbark is a pinata. You can buy it for 2310 chocolate coins at Miss Petula's Paper Pets shop in the village once you are a level 14 gardener.
Barkbark Uses
None.
Species Conflicts