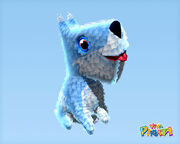 The Barkbark is man's best friend. His qualities are loyalty, cheery disposition, obedience, and every now and then slobbery overfriendlyness.
Requirements
Appear Requirements
None, cannot be obtained this way.
TIP: Have a Kittyfloss in the garden
Visit Requirements
None, cannot be obtained this way.
TIP: Unblock with enough Buzzlegums to scare Ruffian away. Visit- Have 3 Kittyflosses in the garden
Resident requirements
None, cannot be obtained this way.
TIP: Has eaten 1 jelly and 2 bones
Romance Requirements
Is wearing a collar
Has eaten one bone
TIP: Is wearing a collar, has won a fight against a Kittyfloss and have a Barkbark house in the garden
TIP Variants
Green- Poison Ivy Flower
Yellow- Banana Split
Pink/purple- Bottle of Medicine
TIP Tricks
Trick 1: Boil of Wool
Trick 2: Bottle of Milk
TIP Wildcards
Other Information
Barkbarks are pretty cool. They're big, and therefore a little difficult to romance many at once, but they're pretty cute. Quite valuable too. Just know that they're enemies with the Kittyfloss, so having both is a recipe for trouble.
The Barkbark is a pinata. You can buy it for 2310 chocolate coins at Miss Petula's Paper Pets shop in the village once you are a level 14 gardener.
Barkbark Uses
Wearing a spiked collar, they keep Ruffians away from the garden.
Species Conflicts
Ad blocker interference detected!
Wikia is a free-to-use site that makes money from advertising. We have a modified experience for viewers using ad blockers

Wikia is not accessible if you've made further modifications. Remove the custom ad blocker rule(s) and the page will load as expected.