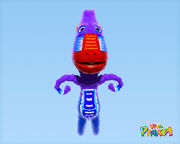 For information on the Sour version of this species, see the Sour Bonboon article. To see all sour species, see the Sour category page.
Red is nature's warning color. Danger! Beware! So, perhaps the Bonboon eats a lot of curried beans?
Requirements
Appear Requirements
Visit Requirements
Resident requirements
Romance Requirements
Bonboon Uses
Bonboons can stop fights in your garden, by performing a dance to distract angry piñatas.
Species Conflicts
Ad blocker interference detected!
Wikia is a free-to-use site that makes money from advertising. We have a modified experience for viewers using ad blockers

Wikia is not accessible if you've made further modifications. Remove the custom ad blocker rule(s) and the page will load as expected.