The Bunnycomb is a blue bunny piñata. It has a white blaze marking on its face and blue irises. It also has a light blue tail and pattern on its ears.
Requirements
Appear Requirements
Visit Requirements
A carrot in the garden
Same for Trouble in Paradise
Resident requirements
You have 40 square pinometers of grass (4%)
Has eaten 2 carrots
Same for Trouble in Paradise
Romance Requirement
You have 60 square pintometers of grass (6%)
TIP: Eaten 1 Radish, have 6% square pinometers of grass and Bunnycomb house in garden
Species Variants
TIP Tricks
Trick 1: Feed Dandelion seed
Trick 2: Feed Dandelion flower
TIP Wildcards
1: Curled, pointed tail
2A: Six ears
2B: Antlers
Other Information
Favorite food: radish & turnips
Bunnycomb appear at level 2.
They have a bace value of 600 chocolate coins.
There house has a base value of 330 chocolate coins.
Cute and cuddly, the Bunnycomb is destined to be a classic and a worldwide favorite. Very low-maintenance, but they're a target for several species (Pretztails, which you can't really control, and Mallowolf, which you can keep out of the garden), so you'll need to protect them if you want to keep many around.
The carrot is one of two seed choices that Leafos offers you. If you chose the turnip, you can try talking with Seedos to obtain a carrot seed. But don't forget it will take 2 carrots to get a resident.
Despite being lower on the food chain, Bunnycombs will continue to visit the garden if a Pretztail or Mallowolf is present.
In the Journal, the orange variant is listed as requiring a pumpkin seed when in fact it requires a grown pumpkin.
Bunnycomb Uses
Eating 1 Bunnycomb helps meet the Mallowolf Romance requirements.
Species Conflicts
In the TV Series
Betty Bunnycomb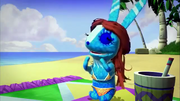 Betty Bunnycomb is a character found in the Viva Piñata TV series. She first appears in the episode Confetti-itis, where she reveals she has three ears.
Gallery
To see all media, see to Bunnycomb/Gallery.