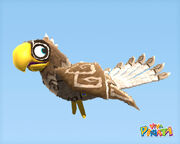 Aloof and mean-looking, the Buzzenge will probably be the first bird of prey to visit your garden.
Requirements
Appear Requirements
Visit Requirements
Resident Requirements
Romance Requirements
Other Information
An upper-class bird, the Buzzenge is rather easy to take care of, but a minor pain in the neck to get all its awards. Worth it, though. You'll have to watch over your piñatas carefully, because the Buzzenges are predators, and may look to snack on other piñatas if the opportunity presents itself.
Due to a misspelling, it says that the Buzzenge needs to eat 2 Sparrowmints and 2 Pudgeons but only needs to eat 1 of each.
Buzzenge Uses
Eating 4 Buzzenges helps meet the Eaglair Resident requirements.
Species Conflicts
Ad blocker interference detected!
Wikia is a free-to-use site that makes money from advertising. We have a modified experience for viewers using ad blockers

Wikia is not accessible if you've made further modifications. Remove the custom ad blocker rule(s) and the page will load as expected.