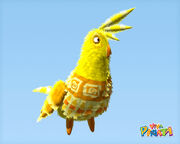 Not only is the Candary small and yellow, but it can "detect" poison gas in mines. Not only pretty but practical too.
Requirements
Resident requirements
Romance Requirements
Other Information
Possessing one of the most annoying chirps in the animal kingdom, Candaries are hard on the ears even if they're easy on the eyes. Quick fliers, they're a minor challenge to romance consistently.
Candary Uses
Species Conflicts
None.
Ad blocker interference detected!
Wikia is a free-to-use site that makes money from advertising. We have a modified experience for viewers using ad blockers

Wikia is not accessible if you've made further modifications. Remove the custom ad blocker rule(s) and the page will load as expected.