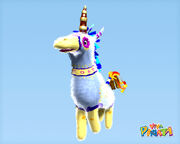 Requirements
Appear requirements
You have the Horstachio Master Romancer award
Visit requirements
Have a gem tree in the garden
Resident requirements
Has eaten 15 gems
Have a fully grown gem tree in the garden
Romance requirements
Have a Chewnicorn house in the garden.
Variants
Species variants for the Chewnicorn
Feeding it a water lily seed changes its color to pink.

Feeding it an ear of corn changes its color to yellow. Feeding it a water lily and a bluebell changes its color to blue.
Uses
1 Chewnicorn in the garden helps meet the Galagoogoo Romance requirements.
Directing a Chewnicorn to a sick pinata will heal it (earning the player an achievement).
Specific Conficts
A Chewnicorn will start fights with a Ponocky or a Zumbug, if one is nearby.
Will be startled by a Roario and break most things in your garden.
Ad blocker interference detected!
Wikia is a free-to-use site that makes money from advertising. We have a modified experience for viewers using ad blockers

Wikia is not accessible if you've made further modifications. Remove the custom ad blocker rule(s) and the page will load as expected.