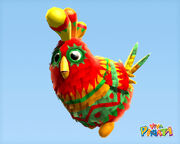 Right from the beginning, scrambled, boiled, or fried; then there's the cute fluffy bit (ahhh); then we dive right back into roast, boiled or fried. How can there be any left?
Requirements
Appear Requirements
N/A, cannot be obtained this way.
Visit Requirements
N/A, cannot be obtained this way.
Resident requirements
N/A, cannot be obtained this way.
Romance Requirements
Other Information
You should always have at least one Cluckles in the garden at all times. Ordering a Cluckles onto an egg will cause the egg to hatch immediately, which saves a ton of time for later species, and is the only way to hatch the elusive Dragonache egg.
The Cluckles is a domestic pinata. You can buy it for 1100 chocolate coins at Miss Petula's Paper Pets shop in the village once you are a level 8 gardener.
An in-game rumor from Leafos claims that when a Cluckles eats 5 different colored flowers it becomes a Parrybo. [False]
Directing a Cluckles to an egg (including a Dragonache egg) will make it hatch much faster than normal(earning the player an achievement).
Cluckles Uses
Species Conflicts
Ad blocker interference detected!
Wikia is a free-to-use site that makes money from advertising. We have a modified experience for viewers using ad blockers

Wikia is not accessible if you've made further modifications. Remove the custom ad blocker rule(s) and the page will load as expected.