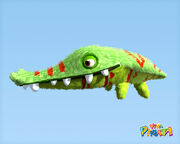 ♙For information on the Sour version of this species, see the Sour Cocoadile article. To see all sour species, see the Sour category page.
After some soothing, the Cocoadile's lethal snout becomes home to nature's widest grin.
Requirements
Appear Requirements
Have had a tame Cocoadile resident at some point
Visit Requirements
Have 160 square pinometers of water (16%)
Have 6 Quackberry residents in the garden
Resident requirements
Have 190 square pinometers of water (19%)
Has eaten 3 Quackberries
Romance Requirements
Have 220 square pinometers of water (22%)
Has eaten 2 Juicygeese
Has Gold Teeth
Other Information
Due to a misspelling, it says that for a wild Cocoadile to visit you need 5 Quackberries when you really need 6.
Due to a misspelling, it says that to tame a sour Cocoadile it needs to eat 2 Swananas when it really has to eat 1.
Likes to be watered with the watering can.
Cocoadile Uses
If you direct the Cocoadile to certain plants, it will fertilize them with its tears (earning the player an achievement). This can be done 3 times on plants (excluding trees and bushes, only once on trees and bushes) and vegetables for maximum value.
Species Conflicts
None.
Ad blocker interference detected!
Wikia is a free-to-use site that makes money from advertising. We have a modified experience for viewers using ad blockers

Wikia is not accessible if you've made further modifications. Remove the custom ad blocker rule(s) and the page will load as expected.