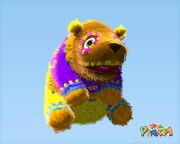 We all know the story of an unfortunate incident with a girl and some porridge. Do you know why she really ran away? Underneath their chunky, furry coats... they were BEARS!
Requirements
Unblock Requirements
Appear Requirements
You are a level 30 gardener or better
Visit Requirements
Resident requirements
Romance Requirements
Other Information
The Fizzlybear makes an appearance in the opening video of the game, and I'll tell you, that shaky dance it does is pretty freakin' disturbing. That aside, Fizzlybears are pretty easy to get a hold of and keep, but they're not that valuable in the long run and bring no special benefits.
Fizzlybear Uses
None.
Species Conflicts
None.
Ad blocker interference detected!
Wikia is a free-to-use site that makes money from advertising. We have a modified experience for viewers using ad blockers

Wikia is not accessible if you've made further modifications. Remove the custom ad blocker rule(s) and the page will load as expected.