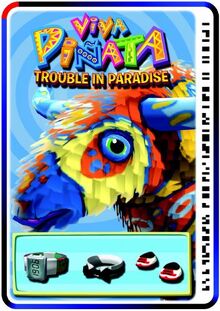 This Piñata is a cousin to the Moozipan. Where the Moozipan enjoys gossip, the Flapyak prefers peace and quiet. Although the Flapyak may be considered to be more difficult to make resident than the Moozipan, you should find it's just as productive. Warm up the milking shed!
Trouble in Paradise - Standard requirements
Appear requirements
You are a level 15 gardener or better
Can only be found in the Piñarctic
Bait requirements
A juicy orange will attract a Flapyak across the ice
Resident requirements
You have 10 square pinometers of snow (1%)
Has eaten 4 fir cones
Has eaten 1 figgy puddings
Romance requirements
Has drunk 1 pot of coffee
Has eaten 3 gooseberries
Is wearing a daisy hair flower
Have a Flapyak house in the garden
Trick requirements
Feed it an orange tree seed to have it perform Trick1
Feed it an orange to have it perform Trick 2
Ad blocker interference detected!
Wikia is a free-to-use site that makes money from advertising. We have a modified experience for viewers using ad blockers

Wikia is not accessible if you've made further modifications. Remove the custom ad blocker rule(s) and the page will load as expected.