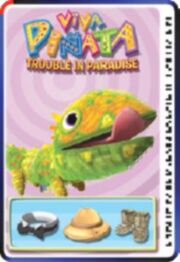 This little lizard pinata enjoys the bright sunshine and sand between its toes. Of course no-one would find living in a desert much fun unless they had already caught a bit too much sun... and accidentally roasted their brain. I'm sorry, did I say that out loud?
Trouble in Paradise - Standard requirements
Appear requirements
Bait requirements
Resident requirements
Romance requirements
Trick requirements
Ad blocker interference detected!
Wikia is a free-to-use site that makes money from advertising. We have a modified experience for viewers using ad blockers

Wikia is not accessible if you've made further modifications. Remove the custom ad blocker rule(s) and the page will load as expected.