Requirements-Classic
Appear Requirements
N/A, cannot be obtained this way, must be adopted from Paper Pets.
Visit Requirements
N/A, cannot be obtained this way, must be adopted from Paper Pets.
Resident requirements
N/A, cannot be obtained this way, must be adopted from Paper Pets.
Romance Requirements
Requirements - Trouble in Paradise
Appear Requirements
4 Snowdrops in the garden
Have 4 square pinometers of long grass
Unblock Requirements
Have 3 Candaries in the garden to wake the sleeping Chippopotamus
Visit Requirements
Have 6 square pinometers of long grass
Have 8 Snowdrops in the garden
Resident Requirements
Have 8 square pinometers of long grass
Eat 3 Snowdrops
Have 12 fences in garden
Romance Requirements
Eat 1 thistle
Eat 1 poison ivy flowerhead
Have a Goobaa house in the garden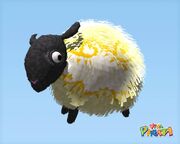 Trick Requirements
Other Information
A fully fluffy Goobaa is pretty cute; a sheared Goobaa is pretty freaking ugly. Still, shearing a Goobaa can lead to some cash during the middle game, although by the time you get Goobaas, you're probably getting most of your money from selling off piñatas.
Goobaas regrow their wool after eating a Sunflower flower (Watercress in Pocket Paradise). Normally, you'll have to command them to eat one, and further to go into the shearing building. However, if a Goobaa is wearing the bonnet accessory, they'll do this on their own provided you have enough Sunflowers around.
An in-game rumor from Leafos claims that a Goobaa will not romance without its fleece. (False)
There is a graphics glitch where when viewing a variant Goobaa from a far distance, the Goobaa's skin will appear to be blue, pink, or darker black (depending on which variant).
Wool Production
The Goobaa can produce wool. Simply buy a Shearing Shed from Willy Builder, then send your Goobaa into it. When your wool has been made, you need to feed the Goobaa a sunflower(Watercress in Pocket Paradise) to prepare it to be sheared again. The Bonnet accessory effect prompts your Goobaa to produce wool automatically.
Goobaa Uses
Eating 1 Goobaa helps meet the Mallowolf Romance requirements.
Species Conflicts
None.Commonly asked questions
Ad blocker interference detected!
Wikia is a free-to-use site that makes money from advertising. We have a modified experience for viewers using ad blockers

Wikia is not accessible if you've made further modifications. Remove the custom ad blocker rule(s) and the page will load as expected.