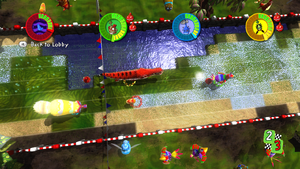 The Great Piñata Paperchase is a racing show mini-game in Viva Piñata: Trouble in Paradise. Four piñatas participate in the race. The track is a linear straight course and is set to have one to nine laps by the host, and by default has three laps.
Loather weapons can be picked up during the race. When a piñata hits a Loather they will slow down.
Each species has a different favorite surface type in which they will go noticeably faster. Surfaces such as Deep Water, Sand, Snow, Grass, and Soil are in the race.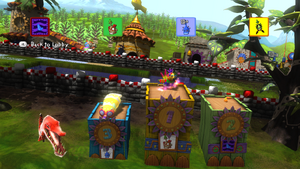 In the background of the race track stores such as Costolot's Store and Gretchen Fetchem's can be seen.