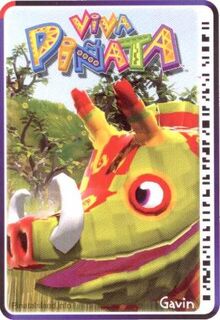 Beauty experts will tell you that the way to get an amazing complexion is to use mud masks. This Piñata loves mud, but you wouldn't really use it as an example of the benefits of using mud packs.
Trouble in Paradise - Standard requirements
Feeding a Cheesecake to a Rashberry turns it into a Hoghurt (earning the player an achievement).
Romance requirements
Has eaten 1 Muffin.
Is wearing Big Jolly Lips.
Is wearing a Weather girl wig.
Is wearing Pendant earrings.
Have a Hoghurt house in the garden.
Trick requirements
Feed it a Prickly Pear seed to have it perform Trick1
Feed it a Fireweed to have it perform Trick 2
Ad blocker interference detected!
Wikia is a free-to-use site that makes money from advertising. We have a modified experience for viewers using ad blockers

Wikia is not accessible if you've made further modifications. Remove the custom ad blocker rule(s) and the page will load as expected.