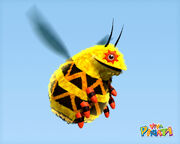 Why do Buzzlegums make honey? I think it's a bribe so we'll be their friends. I mean, without the delicious, sweet honey, you're left with nothing more than a fat wasp.
Requirements
Appear Requirements
Visit Requirements
Resident requirements
Romance Requirements
Other Information
The Buzzlegum resembles the Bee transformation from the Banjo-Kazooie series.
Buzzlegum Uses
Species Conflicts
Commonly asked questions
How do I get the Buzzlegums to make honey?
Make sure you've bought a
Honey Hive
from
Willy Builder
-- it's in the Special Buildings section, and isn't the same building as the Buzzlegum house. Once a Buzzlegum is ready to produce honey, direct your Buzzlegum into it. After it's been through the Hive, direct it to a
Daisy
to prepare it to make honey again. Buying a
Beekeeper Hat
accessory for your Buzzlegum will automate the honey production process.
View thread
Do Buzzlegums make honey? I direct the bees to the hive but the hive doors won't open?
There are a few reasons why this may happen:
Your garden is full of produce. Sell some to make room for more.
The Buzzlegum isn't ready to produce honey. Direct it to a daisy.
The Honey Hive needs plenty of room around it -- it has both front and back doors, and if either door is blocked, the Buzzlegums won't enter.
Ad blocker interference detected!
Wikia is a free-to-use site that makes money from advertising. We have a modified experience for viewers using ad blockers

Wikia is not accessible if you've made further modifications. Remove the custom ad blocker rule(s) and the page will load as expected.