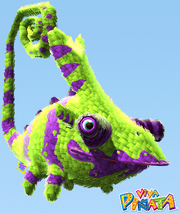 The master of disguise, able to blend into any environment and, unlike some
Syrupents
I could mention, it's not obsessed with giant robo-tanks. Where is it now? No, seriously-where has it gone?
Requirements
Appear Requirements
Visit Requirements
Resident requirements
Romance Requirements
Species variants for the Jameleon
Feeding it a bluebell seed changes its color to blue.
Feeding it an orchid and a bottle of medicine changes its color to white with light purple/pink stripes.
Feeding it a piece of carrot cake changes its color to orange with hot pink stripes.
Other Information
Aside from their existence helping romance Bonboons, the Jameleon isn't very useful. However, they're pretty cheap to attract and turn into residents.
It may take some work to get 5 Flutterscotches of different colors, one way or another, but once you do it, you can keep them in the garden, sell Jameleons for 1500 each, watch them come back, and keep selling.
Jameleons will not visit your garden if one or more Bonboons is a resident.
The Jameleon's romance dance is a mix tape of various Banjo-Kazooie and Grabbed by the Ghoulies tunes.
Jameleon Uses
Species Conflicts
Ad blocker interference detected!
Wikia is a free-to-use site that makes money from advertising. We have a modified experience for viewers using ad blockers

Wikia is not accessible if you've made further modifications. Remove the custom ad blocker rule(s) and the page will load as expected.