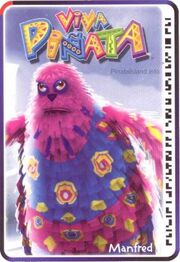 The Jeli is a rare pinata, that is found in Trouble in Paradise and Pocket Paradise.
Appear Requirements
Must be a level 31 gardener or better
Can only be found in the pinarctic
Bait Requirements
Bait trap with an holly berry
Resident Requirements
Have 40 square pinometers of snow
Has eaten 3 banana splits
Has eaten 2 orchid seeds
Color of Jeli
Feed it a sunflower changes to yellow
Feed it a bottle of medicine changes to pink
Feed it a muffin changes to blue
Ad blocker interference detected!
Wikia is a free-to-use site that makes money from advertising. We have a modified experience for viewers using ad blockers

Wikia is not accessible if you've made further modifications. Remove the custom ad blocker rule(s) and the page will load as expected.