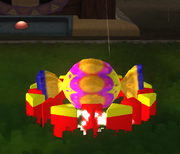 Have a sad Piñata? Feed it a some Joy candy.
Joy candy is better at making Piñatas happy than Happy Candy.
It can be bought at Costolot's Store for 550 Chocolate Coins.
Ad blocker interference detected!
Wikia is a free-to-use site that makes money from advertising. We have a modified experience for viewers using ad blockers

Wikia is not accessible if you've made further modifications. Remove the custom ad blocker rule(s) and the page will load as expected.