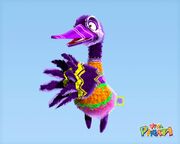 Juicygeese can be used instead of guard Barkbarks. This suggests that Juicygeese are belligerent, but in fact they just want to appear useful. Useful animals don't tend to end up roasted, with gravy... and mashed potatoes, yum!
Requirements
Feeding a gooseberry to a Quackberry turns it into a Juicygoose.
Romance Requirements
You have 100 square pinometers of water (10%)
Has eaten 2 Newtgats
You have a fish fountain in the garden
Have a Juicygoose house in the garden
Other Information
If General Mills ever decides to turn their Gushers fruit snacks into animals, probably the first one out the production line will probably look like a Juicygoose. Rather cute with its intense purple color, Juicygeese will be a pretty cool addition to any garden. Provided it's free of Quackberrys, that is, as Juicygeese will pick fights with them almost constantly.
Newtgats will not visit your garden if one or more Juicygeese is a resident.
Juicygeese are happier when sprinkled with water.
Langston makes a comment when you buy a trap "That will almost definitely work, like Cocadile jaws on Juicygoose candy!"
Juicygoose Uses
Eating 2 Juicygeese helps meet the Cocoadile Romance requirements.
Species Conflicts
==Frequently Asked Questions==
==Frequently Asked Questions==Commonly asked questions