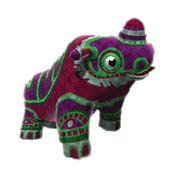 When 
Piñata Central 
was built, they needed a way to transport Pi
ñ
atas around the island. Limeoceri (plural of Limeoceros) love to dance an Irish Jig, so they brought in off-road trucks, equipped with Irish folk music and loudspeakers. As the limeoceri followed the music, they hammered new roads over Pi
ñ
ata Island. The limeoceros is still helpful - see what happens when Professor Pester comes a calling.
Sour Limeoceros
One part Piñata, nine parts angry bulldozer; you don't want to get in the way of  this pest. Smash open its secrets, and find out how to crush its wild side,  because this brute will demolish anything in its path.
Requirements
Appear requirements
You are a level 36 gardener or better
Visit requirements
You are a level 38 gardener or better
Tame Requirements
Trick Requirements
Resident requirements
Has eaten 1 fireweed seed.
Has eaten 1 thistle seed.
Has eaten 1 prickly pear seed.
Ad blocker interference detected!
Wikia is a free-to-use site that makes money from advertising. We have a modified experience for viewers using ad blockers

Wikia is not accessible if you've made further modifications. Remove the custom ad blocker rule(s) and the page will load as expected.