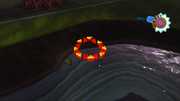 Mud is a surface type that can be found in a garden. No Surface Packet exists, as it can only be found by the side of any pond. Most aquatic plants must be planted in mud, as opposed to being put in water or on other surfaces. Bullrush, Watercress, Water Lily, and a number of other plants grow in mud.
In Viva Piñata: Pocket Paradise there is no mud, and instead all aquatic plants grow in the water. This means that the aquatic plants will not need to be watered to grow. Instead of mud, the edge of ponds is marked by a small stone wall of the same surface as the Crazy Paving.
Ad blocker interference detected!
Wikia is a free-to-use site that makes money from advertising. We have a modified experience for viewers using ad blockers

Wikia is not accessible if you've made further modifications. Remove the custom ad blocker rule(s) and the page will load as expected.