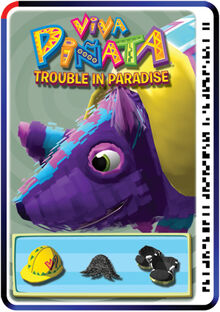 The Parmadillo is very well prepared. It has a hard shell for protection, and it can roll up into an impregnable ball. No-one knows what this preparation is for, and the Parmadillo seems reluctant to spill the beans.
Trouble in Paradise - Standard requirements
Resident Requirement
Feeding a coconut to a Fudgehog turns it into a Parmadillo (earning the player an achievement).
Romance Requirements
Has eaten 1 orange tree seed.
You have 5 square pinometers of sand in the garden (0.5%).
Have a Parmadillo house in the garden.
Species variants for the Parmadillo
Feeding it a Hemlock Flower changes its color to white.
Feeding it a Medicine changes its color to pink.
Feeding it a Banana changes its color to yellow.
Trick Requirements
Feed it a palm seed to have it perform Trick 1
Feed it a coconut to have it perform Trick 2
Parmadillo Uses
Ad blocker interference detected!
Wikia is a free-to-use site that makes money from advertising. We have a modified experience for viewers using ad blockers

Wikia is not accessible if you've made further modifications. Remove the custom ad blocker rule(s) and the page will load as expected.