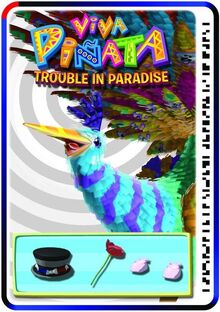 Other birds may declare themselves to be the 'most beautiful creature in the world' (yes Swanana, I'm talking about you), but the Peckanmix has the class to really carry it off. I'm sure this amazing looking Piñata will ruffle some feathers.
Trouble in Paradise - Standard requirements
Appear requirements
Have a Swanana resident in the garden
Visit requirements
Have 3 peas in the garden
Have a birdbath in the garden
Resident requirements
Has eaten 3 peas
Has eaten 1 Blue Flutterscotch
Has eaten 1 Green Flutterscotch
Romance requirements
Has eaten 1 gem
Has eaten 1 bowl of pea soup
Is wearing a Tiara of Tranquility
Have a Peckanmix house in the garden
Trick requirements
Feed it a blueberry to have it perform Trick 1
Feed it watercress to have it perform Trick 2
Species variants
Feeding it wool changes its color to white and bright pink.
Feeding it a gooseberry fool changes its color to green.
Feeding it a pumpkin seed changes its color to orange.
Ad blocker interference detected!
Wikia is a free-to-use site that makes money from advertising. We have a modified experience for viewers using ad blockers

Wikia is not accessible if you've made further modifications. Remove the custom ad blocker rule(s) and the page will load as expected.