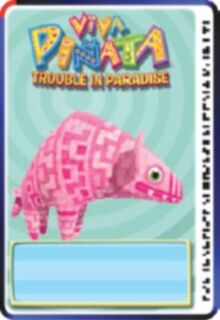 Here's a Piñata that just can't stop laughing. You can explain this by saying that it has a very positive outlook on life, but I suspect it's because the Pieena is one sandwich short of a picnic.
Trouble in Paradise - Standard requirements
Feeding a bone to a Pretztail turns it into a Pieena (earning the player an achievement).
Bait requirements
A Pieena loves a juicy orange
Resident requirements
Romance requirements
Has eaten a Chocstrich egg
Have 4 pinometers of sand
Have a Pieena house in the garden
Trick requirements
Feed it a jeli to have it perform trick 1
Feed it a bone to have it perform trick 2
feed in a blue fossil to perform trick 3
Feed it a red fossil to have it perform trick 4
Ad blocker interference detected!
Wikia is a free-to-use site that makes money from advertising. We have a modified experience for viewers using ad blockers

Wikia is not accessible if you've made further modifications. Remove the custom ad blocker rule(s) and the page will load as expected.