For information on the sour version of this species, see below.
Smelbas have many endearing qualities... that most people ignore because they are fixated on the smells that come from this misunderstood little Pinata. That said, if you want to send a Ruffian packing, fire this stink-bomb in the right direction
Trouble in Paradise - Standard requirements
Appear requirements
Have a resident Smelba in the garden
Visit requirements
Have 7 garlic plants in the garden
Resident requirements
Has eaten 3 rotten garlics bulbs
Romance requirements
Has eaten 2 air fresheners
Is wearing a Romantic Flower
Have a Smelba house in the garden
Trick requirements
Feed it a poison ivy seed to have it perform Trick 1
Feed it a poison ivy flowerhead to have it perform Trick 2
Sour version
I once walked into a lamp-post. It was my own fault, because I didn't look where I was going. My head was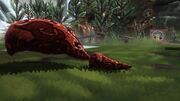 ringing, my eyes watered and my nose was bruised. There is a similar effect if you get too close to this Pinata. Personally, if I had to choose I'd take the lamp-post again - no need to wash your clothes afterward.

As a sour, it will break romances!
If you tame it, the Smelba will scare Ruffians away.
Requirements
Appear requirements
You are a level 21 gardener or better
Visit requirements
You are a level 23 gardener or better
Resident requirements
Ad blocker interference detected!
Wikia is a free-to-use site that makes money from advertising. We have a modified experience for viewers using ad blockers

Wikia is not accessible if you've made further modifications. Remove the custom ad blocker rule(s) and the page will load as expected.