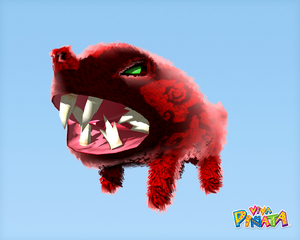 For information on the tamed version of this species, see the Profitamole article. To see all sour species, see the Sour category page.
The Sour Profitamole has a big mouth, pure and simple. Not because they talk a lot, but because they have really big mouths. Seriously, you could fit a whole family of Whirlms in there! Sour Profitamoles like to munch on flowers and leave unsightly holes all over your nice, manicured garden. They also have a taste for Flutterscotches; maybe they think they're flowers with wings?
As a sour, it attacks your flowers!
If you tame it, the Profitamole will eat up the patches of dirt from a Mine.
On the DS version of the game, Pocket Paradise, the mine does not actually bring up any patches of dirt, only a Dragonache egg. Therefore the profitamole has to be taken down into the mine instead.
Requirements
Appear requirements
Level 19 gardener or better
Visit requirements
Level 20 gardener or better
Resident requirements
Ad blocker interference detected!
Wikia is a free-to-use site that makes money from advertising. We have a modified experience for viewers using ad blockers

Wikia is not accessible if you've made further modifications. Remove the custom ad blocker rule(s) and the page will load as expected.