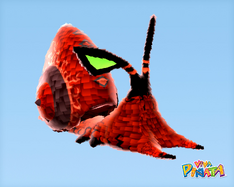 For information on the tamed version of this species, see the Shellybean article.
From a distance, a Sour Shellybean looks like giant seed—at least until their slimy eyes and snouts poke out of their shells. Maybe that's why they love munching on seeds (especially apple seeds!) so much: the seeds remind them of their shells! Sour Shellybeans will begin slithering into your garden fairly early in the game, snacking on seeds and leaving behind nasty sour candies as they slurp about. In fact, if there was an award for Slurpiest Piñata ever, the Sour Shellybean would win hands down — if they had hands, that is.
If you tame it, the Shellybean will eat weed seeds.
Requirements
Appear requirements
Visit requirements
Resident requirements