The Sparrowmint is a small brown sparrow piñata. Its beak is pink, its eyelid is dark brown, and it has green irises. It has a small feathery tail, small brown wings, a white and brown pattern on its belly, and orange feet.
As a small bird, it can fly onto other larger piñatas, tree branches, buildings, and certain decorations. It can also fly over most fences, so a bird proof fence is required to block off this piñata from accessing a certain zone.
Once Whirlms populate a garden, you'll find Sparrowmints close behind. Given a steady food source, they'll stick around, and are easily evolved into something much more exotic.
Requirements
Appear Requirements
Have 1 Whirlm resident in the garden.
Visit Requirements
Have Whirlm residents in the garden.
Resident Requirements
After two Whirlms have romanced.
Romance Requirements
Has eaten one Whirlm.
Have a Sparrowmint house in the garden.
Species Variants
Uses
Eating 1 Sparrowmint helps meet the Buzzenge romance requirements.
Feeding a buttercup to a Sparrowmint evolves a Candary
TIP Feeding a dandelion to Sparrowmint evolves a Candary
Other Tips
Sparrowmints like to be watered with the Watering Can
Feeding 1 daisy seed allows a Sparrowmint to perform trick 1 (TIP)
Feeding 1 daisy flower allows a Sparrowmint to perform trick 2 (TIP)
In the TV Series
Spalding Sparrowmint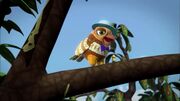 Spalding Sparrowmint is a character in the TV series.
Gallery
To see all media, see to Sparrowmint/Gallery.