Tina and Teddington Twingersnap are two Syrupent characters attached to the same body. They share a body (and a love-hate relationship). A blue-blooded wannabe, he considers himself a member of the upper crust elite.
Quotes
IT WAS THE GOOBAAS! THE GOOBAAS!!!!
Rough, Tina! ROUGH!! ROUGH ROUGH ROUGH ROUGH!!!!
They're so awful they even make us agree!
Opposite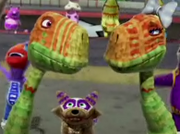 TINA
Tina, the one on the left, usually never agrees with her brother and loves adventures and being tough.
Tina and teddington Twingersnap

Ad blocker interference detected!
Wikia is a free-to-use site that makes money from advertising. We have a modified experience for viewers using ad blockers

Wikia is not accessible if you've made further modifications. Remove the custom ad blocker rule(s) and the page will load as expected.