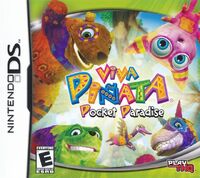 Viva Pinata: Pocket Paradise is a 2008 remake of the Xbox 360 version of Viva Piñata for the Nintendo DS. Most of the features in the Xbox 360 version are retained or translated to this game, making this close in gameplay to the Xbox 360 version. However, some features are different from the original game, such as the leveling system only having eleven levels instead of 100+ levels as in the original game and Costolot's Store not selling Fertilizer, thus requiring the player to use a Taffly to make Fertilizer.
Ad blocker interference detected!
Wikia is a free-to-use site that makes money from advertising. We have a modified experience for viewers using ad blockers

Wikia is not accessible if you've made further modifications. Remove the custom ad blocker rule(s) and the page will load as expected.